Flatanger cave, called "Hanshelleren" (Hans cave), is one of the largest in Scandinavia and with a huge potential for new routes.
Rock and scenery just amazing.
There are about 200 routes at the moment, though it's possible to bolt many more.
Free topos:
- 1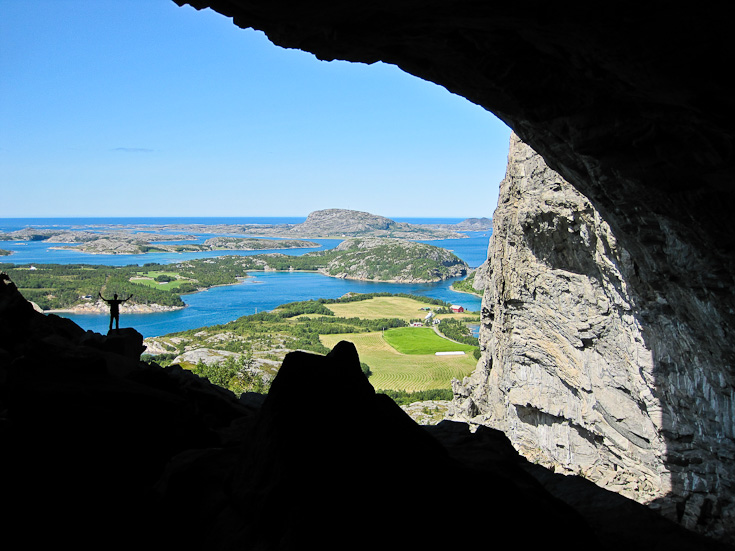 To get there:
take a flight to Trondheim, with Norwegian or SAS (from  Oslo, for example).
15 mins walking from Trondheim Airport, you can climb in Hell.
From Trondheim to Flatanger rent a car or, low budget, take the bus to Sjöåsen.
The last 50 km from Sjöåsen to Flatanger (map), a taxi charges you 9 Euro to bring you to a farm where you can stay with your tent (it will became a real camping soon).
After arrived, You don't need a car, the cave is 20 min walking from the farm.
 You can reach a supermarket, 4 km from the farm, getting a ride from the farmer or other climbers.
If you have a car, You can:
- stay in Lauvsnes village, at Zanzi-bar
- have better rest days driving around to go fishing or hiking.
This huge cave and other surrounding rocks is Norway best high level climbing area, with very long overhanging routes.
According to Magnus Midtboe (blog and interview), quite futuristic:
"The ground is following the wall in the beginning, so if you have a 100 meter long rope you can maybe get out the whole cave just changing ropes one time. We need some long slings as well, to avoid rope drag".
A new Norwegian Chilam Balam soon ?